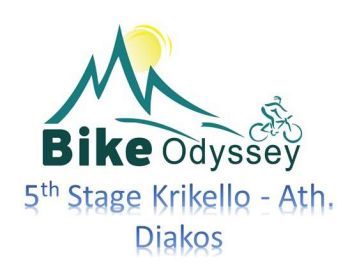 For the 6th day Bike Odyssey continued dynamically. Today took place the 5th stage for the athletes of the 8-day race and the 1st for athletes of 3-day race, with participants reach up to 80 persons. The start was given at 09:03 from the beautiful Krikelloand final destination the village Athanasios Diakos. The weather today was cooler offering athletes better racing conditions at a general level, but passing the mountains was much fog that made difficult their visibility.

The new refreshed blood that entered the race showed from the beginning its capabillities. The team "Cycleland / Cyclist.gr" of Papasavvas and Balaskas made an excellent appearance having the forefront throughout the route. Thus in the 3-day race finished in first place Papasavvas-Balaskas of "Cycleland / Cyclist.gr" team with time 5:01:50, while six minutes behind the first team "NPO Halkida" of Dafnis-Matsoukas L. with a time of 5:08 : 16 and in third place followed by the second team "NPO Halkida" of Kouseris-Makrinos with time 5:25:18.
In 8-day race, in first place finished the usual suspects, Konstantinidis-Papadopoulos of "Old Cranks" team, which have now consolidated their position at the top, with time 5:11:20, in second place Kalogeropoulos-Grivas of "Electric rev by Helma" team with time 5:19:06, and in third place Buik-Cole of "JFR" team.
While the morning took almost all the athletes start, during the course of the race had to leave Yossi Ben Shalom of "Good Guys" team in the 2nd check point due to a small sickness and Karavassilis Stratos shortly after the 3rd check point because of an intense discomfort in the leg. It also failed to finish and the "Oi trobes-podilatou" of Sarris-Papathanasiou.
Present in the race was also the team "Bike me up" with five athletes who competed with electric bikes with time 9:16:35, but not included in the General Classification since this year at there was no corresponding category.
We would like to thank for supporting the Local Representative, the local community and businesses that hosted us, hostel-tavern " To Meterizi" and the hotel "Vardousia".
See the overall results: