We present to you the first four teams of 3-Day Bike Odyssey 2015: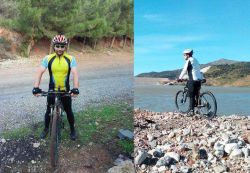 Chohlioi (Snails)
John Kouretas, 42 years old, and Kostas Kefalas, 38 years old, come from Heraklion of Crete and consist the Chohlioi Team .
For years experienced in action activities such as parachuting, climbing, rappelling, paragliding while are both pilots of light aircrafts. John deals with the XC-Marathon the last 2 years as a remedy of arthritis from which suffers the recent years. Kostas is a precious friend and teammate who has started mountain biking the past six months with impressive and remarkable progress and is the driving force of the team by adding the necessary vitality and competitiveness to the team.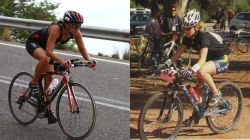 Butterfrees
Maria Kamisaki, 38 years old, from Chania of Crete and Helen Diakaki Helen, 34 years old, from Thessaloniki join forces in Butterfrees Team. Helen loves cycling and has won two Balkan and some Greek Championships, while Maria began from aquaticsat a young age and later passed in triathlon, even joined the National Team, but in cycling achieving many awards both in Greece and abroad. For support they will have with them the experienced Elena Klapanara!
The Black Bullets
Panagiotis Oxyzoglou, 28 years old, and Vassilis Gkaveras, 29 years old, are from Athens and compose The Black Bullets Team. Panagiotis except from mountain biking is experienced in road cycling and motocross while Vassilis is experienced and in mountain skiing and windsurf. The Black Bullets will participate for the second consecutive time in the 3-Day Bike Odyssey.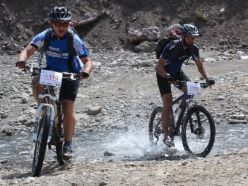 Dragonauts
John Platanias, 33 years old, and Alexander Rizos, 34 years old, are Dragonauts Team and are from Athens. Besides teammates are good friends and are dealing with cycling from 2005 where active in Downhill but in recent years mountain biking has won them. For the Dragonauts Team will also be the second consecutive participation in the 3-day Bike Odyssey.