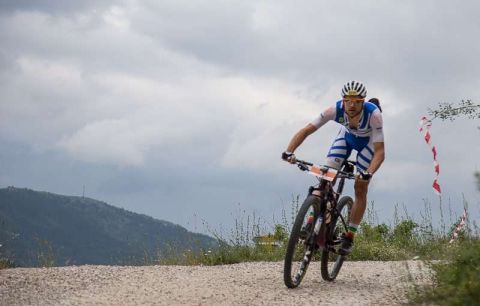 The 6th day of Bike Odyssey 2019 was completed, Highlighted by the arrival of the athletes of the 4-days South race.
Today's race was one of the most distinct stages of the event, as it was a 6-kilometer team-time trial race inside and outside of the picturesque village of Krikello.
At the same time, the arrival of the athletes of the 4-days South race provided us with new teams as well as new protagonists, who are expected to raise the interest in until the end of the race.
Regarding the race, the team that excelled in its performance was the Greek National Team, which took part in the race with two teams, those of Periklis cIlias and Antoniadis Dimitris and Mola Amet Ali Oglou. The two teams made very dynamic appearances and ended with an obviously better time than all other teams in the race!
The National Team will also take part in the 4days South race, and is expected to leave its footprint on the 2nd leg of this year's event
We all look forward with great interest to tomorrow's race so that we to get to know what the athletes of the 4-days South race are all about, as well as for the battles that will be held for the best placement in the General Classification in the 9-days race!
Stay tuned!
9DAYS

PLACE

TEAM NAME

ATHLETES NAMES

TIME

1

AVRA

SOUVATZOGLOU GRIGORIS-KOURMPETIS ANESTIS

00:19:37

2

BIKEBOARD.AT

REN'E REIDINGER-CHRISTIAN MEYER

00:20:46

3

SCHC TEAM POLAND

FIDYTEK TOMASZ-BARAN MARCIN

00:21:03

4

BEASTIE BIKERZ MASTERS

WOLFGANG FAβBENDER-THOMAS WIMMER

00:21:30

5

FEELS GOOD LIKE A MTF

FRAILE LUIS-AMMORICH JULIAN

00:22:03

6

HEROES & ZEROS

TSOULOUHAS GEORGE-DUDEK BO

00:22:23

7

PRO TRENER

NOVIKOVA ANNA-ZAMOTIN OLEG

00:22:28

8

LYON MOUNTAIN TRAIL

CLAUDE BOUBIDI-ROBIN DEVIRAUX

00:22:34

9

KATUSHA FANS KAZANIAK

BARABONKOV ANDREY-ZHEKO STOYCHEV

00:22:59

10

FLATT OUT

ZOTOS MICHEAL-TAMPAROPOULOS ARISTOTELIS

00:24:27

11

BEASTIE BIKERZ ROOKIES

KAISER THOMAS-REINDL BERND

00:24:40

12

VITA4YOU.GR

SAMOLADAS ANTONIS-FRAGKOYLIS GIORGOS

00:25:53

13

O.P.O.P. 1

KOUTSOGIANNIS THANASIS-KARAPAS TASOS

00:26:13

14

BEASTIE BIKERZ VETERANS

HILTSCHER WOLFGANG-MARX THOMAS

00:26:29

15

127 YEARS FROM HAMBURG

RUDIGER WESSKAM-RUDIGER ROHDE

00:28:53

16

KASTRINI KOURSARI

KALEBUBAS MICHEAL-KOTOPOULOS THODORIS

00:37:33

17

LYON MOUNTAIN TRAIL

XAVIER ROLLAND

00:20:34
4DAYS SOUTH OPEN

PLACE

TEAM NAME

ATHLETES NAMES

TIME

1

MOUNTAIN -BIKERS

Panos Vergetopoulos-Karagiannis Ilias

00:23:04

2

Evolution

Stathis Dimitris-Bakathanasis Giannis

00:23:59

3

Faros Cycling Club

Laccotripes Kyriacos-Loizos Georgios

00:24:02

4

Kouladia

Drosos Alexandros-Valavanis Dimostenis

00:25:25

5

BN Cycling team

Davaris Kostas-Tzanetos Nikos

00:26:02

6

Roughless

Smprinis Kostas-Katsoulas Nikos

00:26:18

7

Demarrage - ProAction

Ioannis Berdempes-Hu Deming

00:26:23

8

Beer Rollers

Platanias John-Zafiropoulos Apostolis

00:28:16

9

Anathema the Time

Kolovos Dionisis-Athanasios Stathopoulos

00:29:40

10

BN Cycling 3

Theodoridis Christos-Patsis Konstantinos

00:30:46

11

CTT

Tsomlektsoglou Alexandros-Kalogeras Dimitris

00:31:18

12

Doctors

Lytras Stathis-Eleftheriadis Elias

00:31:57

13

Penultimates

Memos Arion-Tsakonas Nasos

00:33:38

14

Broken-back Mountain

Mouzakis Foivos-Bitsanis Evangelos

00:38:48

15

Long Way Home

Meneklis Vassilis-Kostas Giorgos

00:40:00

16

Old Boys

Simonetatos Andreas-Mproutzos Hlias

00:40:33

4DAYS SOUTH UCI

PLACE

TEAM NAME

ATHLETES NAMES

TIME

1

GREEK NATIONAL TEAM

ILIAS PERIKLIS-ANTONIADIS DIMITRIOS

00:16:37

2

GREEK NATIONAL TEAM

MOLLA AMET ALI OGLOU CHAROUN-TSORTOUKTSIDIS ILIAS

00:17:55

3

FUKAYA RACING

Yuta Matsumoto-Ryo Takeuchi

00:18:58
9 Days Bike Odyssey Overall Results

PLACE

TEAM NAME

ATHLETES NAME

TIME

1

AVRA

Suvatzoglou Grigoris / Kourmpetis Anestis

19:07:29

2

bikeboard.at

René Reidinger / Christian Meyer

20:09:39

3

SCHC TEAM POLAND

Fidytek Tomasz / Baran Marcin

20:55:55

4

Beastie Bikerz Masters

Wolfgang Faßbender / Thomas Wimmer

21:56:59

5

Feels good like a MTF

Fraile Luis / Amorrich Julian

22:20:41

6

Heroes & Zeros

Tsoulouhas George / Dudek Bo

22:48:48

7

Pro Trener

Novikova Anna / Zamotin Oleg

22:51:56

8

Flatt out

Zotos Michael / Tamparopoulos Aristotelis

24:30:24

9

Beastie Bikerz Rookies

Kaiser Thomas / Reindl Bernd

24:37:48

10

Katusha Fans Kazanlak

Romanov Andrey / Zheko Stoychev

24:45:04

11

Vita4you.gr

Samoladas Antonis / Fragkoulis George

25:30:33

12

Beastie Bikerz Veterans

Hiltscher Wolfgang / Marx Thomas

25:39:09

13

LYON MOUNTAIN TRAIL

CLAUDE BOUBIDI / ROBIN DERIVAUX

25:43:00

14

O.P.O.P. 1

KOUTSOGIANNIS ATHANASIOS / KARAPAS ANSTASIOS

30:25:43

15

127 years from Hamburg

Rüdiger Weskamm / Rüdiger Rohde

32:13:09

16

Kastrini Koursari

Kalebubas Micheal / Kotopoulos Thodoris

32:15:51

17

LYON MOUNTAIN TRAIL

XAVIER ROLLAND

28:42:36