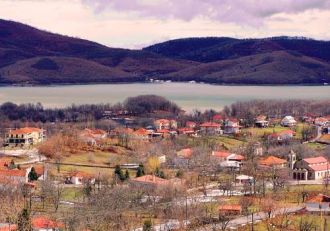 Neochori is now in the past and Kalyvia Pezoulas has taken its place and replace it. The route to the new station has no major changes, although its location is closer to Lake Plastira.
Kalyvia is the settlement of the Local Community of Pezoulas of the Municipality of Plastira Lake in the Prefecture of Karditsa. Kalyvia is located beside Lake Plastira, unlike Neohori which was high on the mountain, so you will be able to admire the Lake more. It is a growing settlement with many country houses. It is located at a distance of 42 kilometers southwest of Karditsa and its population does not exceed 300 people. Prior to the creation of the lake, the residents of the settlement worked in the fields of Nevropolis and kept their cabins here; from their existence the location take this name.
Sights of the area are the church of Agios Panteleimonas, the watermill, the stone fountains of Karagiannis and Agia Paraskevi.