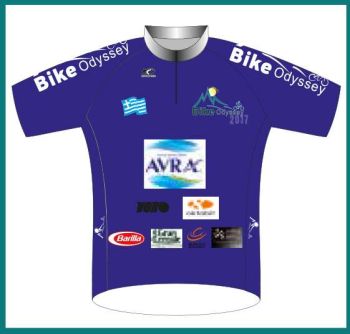 In the 5 years of Bike Odyssey, the blue jersey of the champions has changed many hands. Let's follow its course.
2013
The first year of the Bike Odyssey race. In the prologue of the race, the team of Kotopoulos Thodoris and Kontels Dimitris wins the champions' jersey, while in the 1st stage the jersey passes into the hands of the team of Tsoulouhas George and Tsiavtaris Mike. In the second stage the team of Fragkoulis George and Samoladas Antonisthe wins the jersey and keeps it and in the next stage. Then the team of Kotopoulos Thodoris and Kontelas Dimitris recovers and wins the jersey for the 4th stage and keeps it until the end of the race where they announced as winners.
Fragkoulis - Samoladas Tsiavtaris - Tsoulouhas Kotopoulos - Kontelas
2014
The second year of the organization, the team of Vanni Balboni and Emanuele Iannarilli wins the jersey in the prologue and in 1st stage. In the 2nd stage, however, the jersey passes into the hands of Koutopoulos Thodoris and Tsiavtaris Mike who keep it until the end and win the race.
Iannarilli - Balboni Tsiavtaris - Kotopoulos
2015
Third year for the race. The team of Kostopoulos Nikos and Kalogeropoulos Gregoris starts dynamically and keeps the jersey all the 8 days winning the Bike Odyssey race.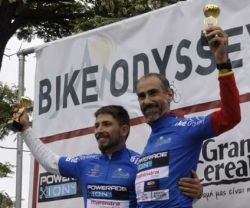 Kalogeropoulos - Kostopoulos
2016
And in the fourth year is repeating the pattern of the previous one. The protagonists this time are Konstantinidis Konstantinos and Papadopoulos Thomas, who conquer the blue jerseys in all 8 stages and take the victory.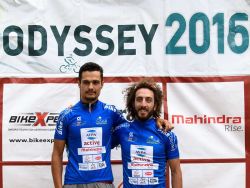 Konstantinidis - Papadopoulos
2017
Bike Odyssey is 5 years old. The team of Papasavvas Michael and Orfanoudakis Kostas is entering the race vigorously and despite losing a stage it manages to keep the blue jersey for all 8 days managing this way to win the Bike Odyssey.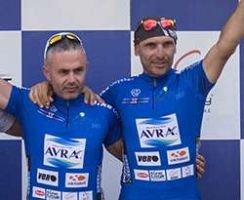 Papasavvas - Orfanoudakis
Next year who will be the winner?