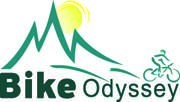 Bike Odyssey 2017 is now a part of the past, leaving us with the best memories and promises for an even better race next year! Preparations for the next Bike Odyssey have already begun ...
Forms of declaring accredited journalists and expressing interest in finding a teammate for Bike Odyssey 2018 are already online!
If you are an accredited journalist fill out the entry form so we can get in touch for more details:
BIKE ODYSSEY 2018: REGISTRATION FORM FOR ACCREDITED JOURNALISTS
Fill in the form if you are interested in participating in Bike Odyssey but you do not have a teammate. We will bring you in touch with potential athletes upon request.