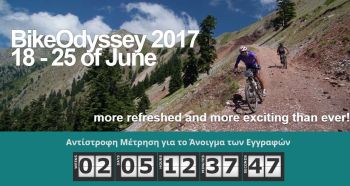 Only 19 days left until registrations opening! On 01.12.2016 at 12:00 a.m. (at midnight 30/11-dawn to 1/12) will open the registrations for one of the toughest mountain bike races in the world, Bike Odyssey 2017!
The registrations will remain open until the 31/12/2016. The athletes, who will be registered sooner, will benefit great discounts in participation packages, both in 8-day and 3-day races.
For more details see:
So do not waste time, find a teammate, subscribe directly and you will have the most thrilling experience of your life in amazing price.