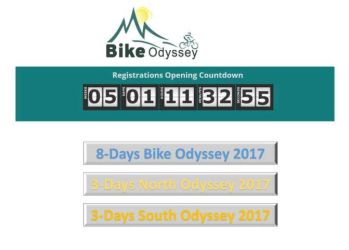 On 01/12/2016 at midnight registrations will open.

To register easily and be quicker to get the offers, Bike Odyssey site will disappear and will only be shown one page with the timer and with the races' options, as shown above.
This page will appear the day before the opening of the registrations and will remain until the end of the offers. After that, the site of Bike Odyssey will appear normal again.

So enter the site and study the packages and the offers now to be well prepared!
Packages & offers for 8-day Bike Odyssey