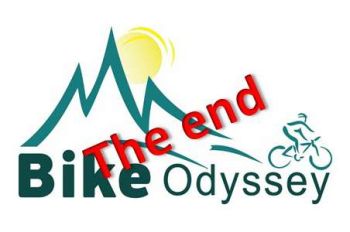 On Sunday 26.06.2016 was held the last stage of Bike Odyssey and the 1-Day Bike Odyssey. The weather was very good despite the announcements of meteorologists for extreme weather conditions in the region. The start was given at 11:30 for the 8-day and 3-day athletes and at 12:08 for one-day athletes. Leaving Ano Chora, our last destination, the beautiful town of Nafpaktos on a route with a total distance 51.69klm and elevation gain 1,046 m.
Athletes started with 1.5km asphalt road with the escort of the Traffic Police of Nafpaktos and then was given freeride. The stage, although was smaller in kilometers, was especially demanding since had three technical paths, with the third being the hardest.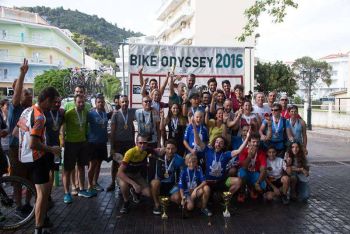 For the 8-day race, the first 5 teams were detached from the rest in the first few kilometers. There was quite competitive atmosphere and a real battle between them. We refer to the Old Cranks, Electriv Rev by Helma, C.C. of Xanthi «The Pegasus», JFR and www.vita4you.gr. Finally, the team Old Cranks with Konstantinidis and Papadopoulos deservedly won the position of the big winner, who deserve credit after they managed to finish first of all, three-day and one-day athletes despite the fatigue of the previous days. See the results of the General Classification of the 8-day event.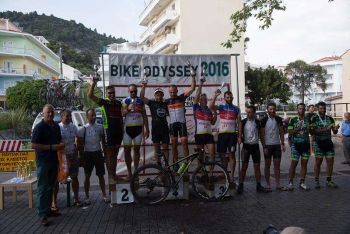 In the 3-day race, the classical top three teams were Cycleland / Cyclist.gr and both teams of NPO of Chalkida, in fourth place we have a surprise from the team "Tamparopouloi A.E." consisting of father and son while the next positions were some reclassifications compared to previous days. See the results of the General Classification of the 3-day event.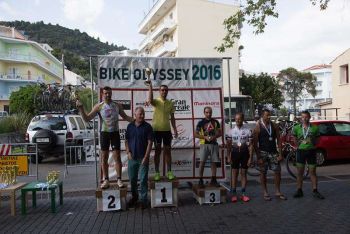 In the one-day race, they took eventually start 45 athletes. In the first place finished Tsakalos Anastasios, in second place the Bantounas Andreas and in third place Anthimos Constantine. See the detailed results of the one-day race.

The mood was festive in Nafpaktos! Crowds rushed to see and applaud the athletes. The dancing part of L.P.CHO.N. "The Anemogiannis" of N. Zorgiou danced traditional dances. Music, laughter, euphemisms for terminations! After terminations followed the awards. Hugs, kisses and a new appointment for next year!


Many thanks for the great support to the Municipality of Nafpaktos, the Traffic Police Of Nafpaktos, the Coast Guard of Nafpaktos, the Forest Authority of Nafpaktos and the S.C.E. "Promote the Nafpaktia".