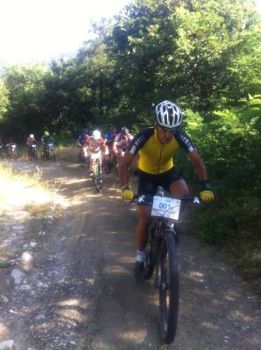 Completed today the 3 stage Pyli - Agrafa and as demonstrated was very demanding for the athletes since they had to cross a distance of 82.78 km with 3343 m elevation gain. The high temperature of 30 ° C hampered even more the athletes' work.
Deutch Shlomi from the team «Good Guys» from Israel and Zotos Michael of «MLC» team began the stage with a slight indisposition, but did not give up, shook their teeth and managed to complete the challenge of this day.
Unfortunately, during the race the «Canyons» team of Papanikolaou-Angelakis disqualified and it is not included any more in General Classification according to the regulations for the team's split over the two minutes.
The first places at finish remained in their predecessors, while the first signs of tireness began to appear. Per example the team from Bulgaria «SashBo Raw Bikers» of Dudek and Alexander, which while in earlier stages made a very good performance, today had a hard enough.

Many thanks for supporting the Municipality of Agrafa, the Local Representative, the local community and once again all the bussinesses that hosted us and especially the guesthouse "Kyra Niki", the guest house "O Pyrgos" and the rooms and tavern of Ms. Popi Gati.
Tomorrow follows the 4th stage Agrafa – Krikello which is the most difficult stage of the entire race. Good luck to all teams!

See the detailed results of the General Classification after Stage 3:
| | | | | | | | |
| --- | --- | --- | --- | --- | --- | --- | --- |
| A/A | BIB | Team | Prologue | Stage 1 | Stage 2 | Stage 3 | Overall |
| 1 | 16 | 016 Old cranks - Konstantinidis Konstantinos / Papadopoulos Thomas | 0:32:43 | 5:47:30 | 4:26:55 | 5:11:32 | 15:58:40 |
| 2 | 10 | 010 ELECTRIC REV BY HELMA - KALOGEROPOULOS GRIGORIS / GRIVAS ANDREAS | 0:34:03 | 6:09:26 | 4:29:59 | 5:20:54 | 16:34:22 |
| 3 | 17 | 017 JFR - Buik Charles / Cole Simon | 0:37:26 | 6:23:21 | 4:47:18 | 5:43:30 | 17:31:35 |
| 4 | 9 | 009 C.C. OF XANTHI " THE PEGASUS" - TSOULOUHAS GEORGE / KALONIKIDIS TASOS | 0:38:03 | 6:30:09 | 5:09:39 | 6:19:28 | 18:37:19 |
| 5 | 1 | 001 WWW.VITA4YOU.GR - SAMOLADAS ANTONIOS / FRAGOULIS GEORGIOS | 0:38:41 | 7:03:28 | 4:56:32 | 5:59:54 | 18:38:35 |
| 6 | 15 | 015 SashBo Raw Bikers - Dudek Bo / Alexandrov Alexander | 0:37:16 | 7:05:49 | 4:54:59 | 7:06:53 | 19:44:57 |
| 7 | 18 | 018 LES CATAXELLES - HUTIN CATHERINE / CROCE Axelle | 0:48:26 | 8:20:25 | 6:52:40 | 8:25:47 | 24:27:18 |
| 8 | 19 | 019 MLC - ZOTOS MICHAEL / PAPADOPOULOS PANAGIOTIS | 0:41:01 | 7:55:23 | 6:10:42 | 10:00:02 | 24:47:08 |
| 9 | 3 | 003 KASTRINOI KOURSAROI - KALEBUBAS MICHAIL / PSILAKIS NIKOS | 0:58:55 | 8:25:35 | 6:54:53 | 8:31:24 | 24:50:47 |
| 10 | 4 | 004 MTB BEARS KOZANI - KARATZETSOS ARISTIDIS / SKORDAS PASCHALIS | 0:52:00 | 9:27:38 | 7:23:31 | 8:56:25 | 26:39:34 |
| 11 | 5 | 005 DIAOLOU KALTSES - KLAPANARA ELENA / DIAKAKI ELENI | 0:44:48 | 9:08:04 | 7:36:08 | 10:09:38 | 27:38:38 |
| 12 | 14 | 014 GOOD GUYS - DEUTSCH SHLOMI / BEN SHALOM YOSSI | 0:50:00 | 9:40:04 | 7:52:45 | 10:37:40 | 29:00:29 |
| 13 | 20 | 020 WINGY PEDALS - ΕΞΑΡΧΟΣ ΓΙΩΡΓΟΣ / ΚΩΝΣΤΑΝΤΙΝΟΥ ΔΗΜΗΤΡΙΟΣ | 0:54:04 | 9:51:00 | 8:11:00 | 10:19:22 | 29:15:26 |
| 14 | 12 | 012 CANYONS - PAPANIKOLAOU KONSTANTINOS / AGGELAKIS PANAGIOTIS | 0:38:22 | 7:12:48 | 5:55:19 | 8:26:00 DSQ | 13:46:29 |
| 15 | 7 | 007 VERNON ENDURANCE / TSIAS DRAMAS - KOTOPOULOS THODORIS / TSIAVTARIS MIKE | 0:38:22 | 6:35:18 | 05:55:15 007A DNF | QUIT | 7:13:40 |