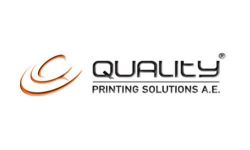 "Bike Odyssey 2016" has next to it and this year an indispensable partner, Quality, which has assumed all digital prints of the event such as posters , bib numbers, roadbooks etc .
Since 2000, Quality has established itself as one of the best companies in the field of digital printing thanks to credibility, speed and quality of its service. Quality has both the staff and the equipment to print everything you can imagine in a variety of materials, such as paper, pvc plexi glass, wood even aluminum.
Through their qualified staff, equipment and experience the result is guaranteed! Contact with Quality and let your imagination run wild!
More information on www.qlty.gr