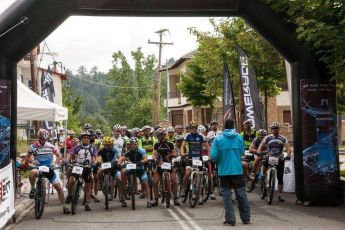 The Bike Odyssey 2015 started on Sunday in the beautiful Smixi of Grevena.
The start was given at 11:00 am and the athletes began the prologue of the race a route of 14 km, while was held at the same time the one-day race "Smixi MTB Race" which included two routes, one of 33km and one of 14km. Due to the bad weather the route of 33km waw done in 3 rounds of 11km.
First to finish was the team «Electric Rev By Helma / Salomon Hellas», with Gregory Kalogeropoulos and Nikos Kostopoulos and followed by the team «Vermon Endurance/JustHost.gr» with Thodoris Kotopoulos and George Tsoulouhas and third was the team «Sliptream/Trailing Edge» with David Hackshaw and Ryan Mendes.
In the long route of Smixi MTB Race, first in overall and in the category 18-39 was elected the Michael Papasavvas, in the category 40+ Alkis Spagkouros. In the short route first in men was the Sarantis Arabatzis and in women Stella Tsobanoglou.
The weather was rainy, but this did not discourage the athletes, who seemed more to amuse it than to be a problem.
The awards were given immediately after the end of the race, with intense participation of the people of Smixi, who thanked extra for the pleasant, festive touch that brings the passage of Bike Odyssey from their village. From our side we thanked them for their unique hospitality.
Then the pasta party followed, where athletes and organizers ate together and discussed their impressions and their forecasts for the coming days.
In the afternoon after the necessary physical rest the day's program included information on the next etape "Smixi-Kastania" and the athletes watch the highlights of the same day the races.