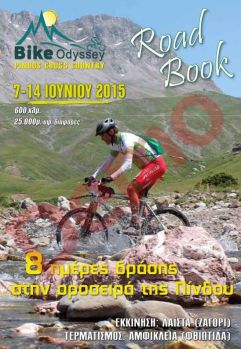 Available for all athletes that will participate in the race will be the Road Book of Bike Odyssey 2015. Road Book will contain useful information generally for the race but also specifically for each stage and village. The athlete will go back at any time and seek information that does not know or simply has forgotten.
Also, it will be nominal and will be marked by the organization to confirm the participation. So, apart from a useful tool, is also another souvenir of the participation in the race.
A smaller versionwillalso be available to the athletes of the three-day race.
Browse the demo of the Road Book on the homepage of the site.
Note: All photos of the Road Book are highlights from Bike Odyssey 2014.
Photo: Alina Lefa
Katerina Tourkochoriti
Christos Makrygiannis