Strong participation in Bike Odyssey 2014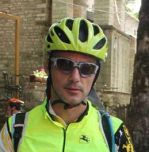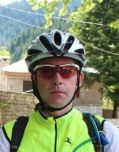 • George and Antonis
George Frangoulis, 41 years old, and Antonis Samoladas, 39 years old are the athletic couple of "1000 Dentra" team and they come from Thessalonica . Their characteristic is the resistance in uphill but they lack in technique, and for that reason their purpose of the training sessions was to improve in this area in order to be more competitive. Having the experience of Bike Odyssey 2013 year, this year aim even higher.

H Heidi Nieuwoudt, 36 years old, and Natalie Ann Hayward, 32 years old, are the "Iman" team and they come from South Africa . They seem to have a lot of experience to mtb races after having participated in numerous one-day races, in a 3-day and 6-day race. However, Bike Odyssey is the hardest race that they will participate as indicated by the same . It is the only women's team in the 8-day event and is expected to be in top positions.

Theodore Kotopoulos, 49 years old from Kastoria, and Michael Tsiavtaris, 31 years old from Drama, are this year's althetic couple of "Vernon Endurance". Theodore, the winner of Bike Odyssey 2013, has extensive experience in such races. Michael is a coach (http://www.tsias.com) and a triathlete with many Panhellenic discriminations and although his experience in mountain is limited, he is in a very good shape. They have to fight hard to keep the top position since the competition this year will be great.


Costas Loukopoulos, 53 years old, and Dimitris Atzampos, 25 years old , joined their forces in "Cyclesport" team from Athens . There is a generation gap between them, but they seem to complete each other, Kostas with his experience and Dimitris with his power . They are slow but stable for long distances as far as concern their performance and they wait for the opponent to make a mistake to fight back.

Vanni Balboni, 44 years old, and Emanuele Iannarilli, 37 years old, are "Green Devils" team and they come from Italy. The "mtb devils", as their name suggests, they show with their cv a hard profile with huge experience in world-class competitions and they come withbigaspirationsfor the title.Will they succeed?