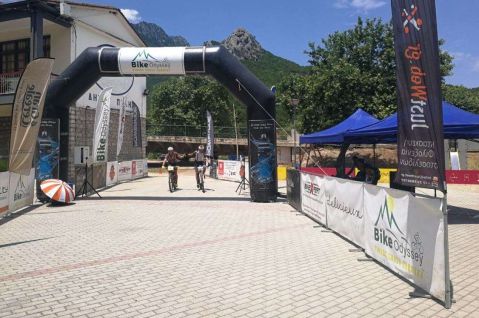 Take a look at the first results!
The first athletes crossed the finish line for the 4-days race, with the two teams of the Greek National Team finishing in first and second place respectively!
Periklis Ilias and Antoniadis Dimitris finished first and Tsortoukidis ilias and Molla Amet Ali Oglou finished second.
Below are the given podiums per race as they have been formed so far.
9DAYS

PLACE

TEAM NAME

ATHLETES NAMES

TIME

1st

AVRA

SOUVATZOGLOU GRIGORIS-KOURBETIS ANESTIS

4:04:46

2nd

BIKEBOARD.AT

REN'E REIDINGER-CHRISTIAN MEYER

4:22:39

3rd

SCHC TEAM POLAND

FIDYTEK TOMASZ-BARAN MARCIN

4:32:27

4th

BEASTIE BIKERZ MASTERS

WOLFGANG FAβBENDER-THOMAS WIMMER

4:37:45

5th

FEELS GOOD LIKE A MTF

FRAILE LUIS-AMMORICH JULIAN

4:42:42

6th

HEROES & ZEROS

TSOULOUHAS GEORGE-DUDEK BO

4:45:10
UCI 4DAYS NORTH

PLACE

TEAM NAME

ATHLETES NAMES

TIME

1st

GREEK NATIONAL TEAM

ILIAS PERIKLIS-ANTONIADIS DIMITRIOS

4:29:18

2nd

GREEK NATIONAL TEAM

MOLLA AMET ALIOGLOU CHAROUN-TSORTOUKTSIDIS ILIAS

4:30:56
OPEN 4DAYS NORTH

PLACE

TEAM NAME

ATHLETES NAMES

TIME

1st

NO LIFERS

KALABALIKIS DIMITRIOS-MICHAILIDIS IOANNIS

4:50:47

2nd

ACTION BIKE CLUB

VOUDOURIS EURIPIDES-ZOUMPOYLIS VASSILIS

5:06:59

3rd

Gatsoulis Orbea

DIMOPOULOS THOMAS-KARAMETOS DIMITRIOS

5:18:11