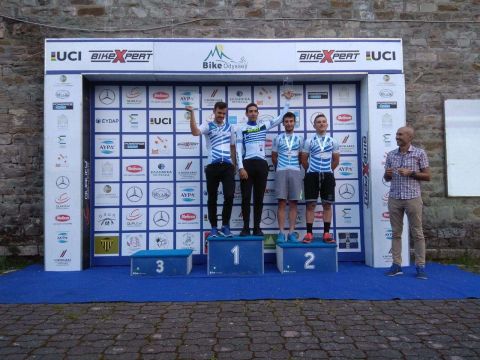 The first day of the Bike Odyssey 2019 was successfully completed. The athletes showed up seemingly with the best they could offer, at a stage that admittedly someone could not come up with many conclusions.
Today's stage served the purpose of its name: it was a Prologue, an introduction to this year's Cycling Odyssey for both athletes as well as those who take interest in the race. Nevertheless, the athletes seemed to have raced hard, in a way that from our part we were delighted and are looking forward to what they are going to show us in the next stages of the race.
However, the teams that managed to stand out were those of the Greek National Team, who had dynamic appearances, which were clearly reflected in the time difference they had from the rest of the teams in today's Stage
The once world champion Periklis Ilias and the Greek Champion AntoniadIs Dimitris made the best time out of all the other athletes, followed by Mola Amet Ali Oglou Haroun and Tsoroutkidis Ilias, who came two minutes afterwards.
Below are listed the results of the 9-days, 4-days North and 4-North UCI races.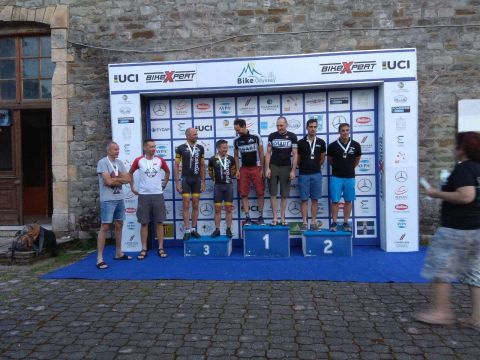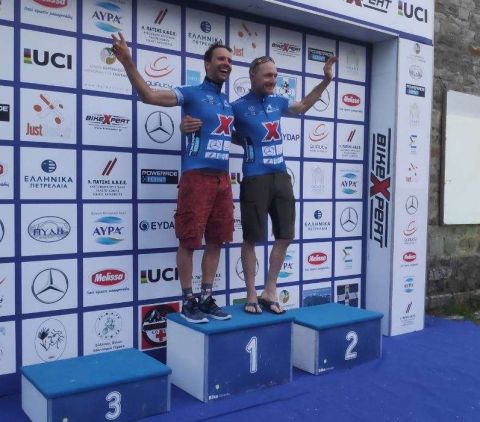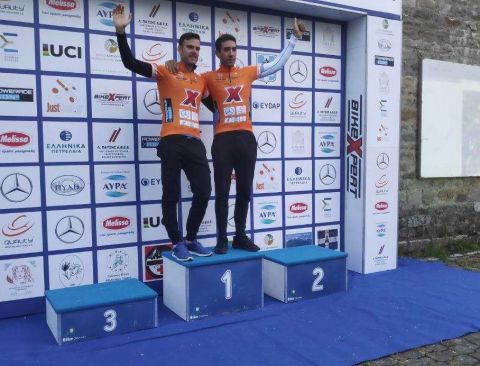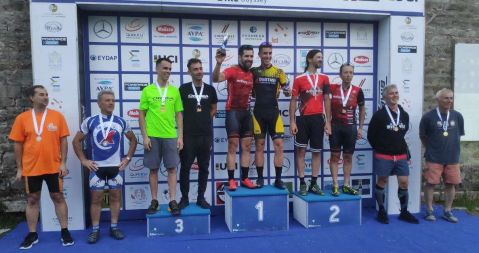 9DAYS

PLACE

TEAM NAME

MEMBERS OF TEAM

TIME

1st

BIKEBOARD.AT

REN'E REIDINGER-CHRISTIAN MEYER

0:13:44

2nd

K SPORTS

SOUVATZOGLOU GRIGORIS-KOURBETIS ANESTIS

0:13:56

3rd

BEASTIE BIKERZ MASTERS

WOLFGANG FAβBENDER-THOMAS WIMMER

0:15:36

4th

SCHC TEAM POLAND

FIDYTEK TOMASZ-BARAN MARCIN

0:15:37

5th

LYON MOUNTAIN TRAIL

CLAUDE BOUBIDI-ROBIN DEVIRAUX

0:16:43

6th

FEELS GOOD LIKE A MTF

FRAILE LUIS-AMMORICH JULIAN

0:17:01

7th

FLATT OUT

ZOTOS MICHEAL-TAMPAROPOULOS ARISTOTELIS

0:17:05

8th

HEROES & ZEROS

TSOULOUHAS GEORGE-DUDEK BO

0:17:12

9th

O.P.O.P. 1

KOUTSOGIANNIS THANASIS-KARAPAS TASOS

0:18:18

10th

PRO TENER

NOVIKOVA ANNA-ZAMOTIN OLEG

0:18:22

11th

KATUSHA FANS KAZANIAK

BARABONKOV ANDREY-ZHEKO STOYCHEV

0:18:40

12th

BEASTIE BIKERZ VETERANS

HILTSCHER WOLFGANG-MARX THOMAS

0:19:11

13th

VITA4YOU.GR

SAMOLADAS ANTONIS-FRAGKOYLIS GIORGOS

0:19:12

14th

BEASTIE BIKERZ ROOKIES

KAISER THOMAS-REINDL BERND

0:19:36

15th

127 YEARS FROM HAMBURG

RUDIGER WESSKAM-RUDIGER ROHDE

0:21:51

16th

KASTRINI KOURSARI

KALEBUBAS MICHEAL-KOTOPOULOS THODORIS

0:23:22

17th

LYON MOUNTAIN TRAIL

XAVIER ROLLAND
UCI 4DAYS NORTH

PLACE

TEAM NAME

MEMBERS OF TEAM

TIME

1st

GREEK NATIONAL TEAM

ILIAS PERIKLIS-ANTONIADIS DIMITRIOS

0:11:54

2nd

GREEK NATIONAL TEAM

MOLLA AMET ALIOGLOU CHAROUN-TSORTOUKTSIDIS ILIAS

0:13:03

OPEN 4DAYS NORTH

PLACE

TEAM NAME

MEMBERS OF TEAM

TIME

1st

NO LIFERS

KALABALIKIS DIMITRIOS-MICHAILIDIS IOANNIS

0:16:00

2nd

ACTION BIKE CLUB

VOUDOURIS EURIPIDES-ZOUMPOYLIS VASSILIS

0:17:39

3rd

GATSOULIS-ORBEA

DIMOPOULOS THOMAS-KARAMETOS DIMITRIOS

0:18:05

4th

HALKISAD

DAGOPOULOS PANAGIOTIS-DUSAN TURKULOV

0:18:17

5th

ATAIRIASTOI

LYTRAS STATHIS-MANIS ILIAS

0:20:20

6th

OUTDOOR SYNDICATE

ATHANASIOU FILIPPOS-KATSOUPIS MANOLIS

0:22:26