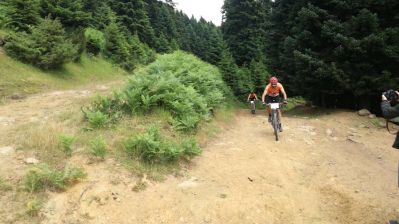 The Night Riders seem unstoppable!!
The first teams passed by the 2nd checkpoint, with Night Riders seeming unstoppable and having increased the difference from the second team to 9 minutes.
In second place follow Mossoczy Zbigniew-Maciejowski Przemyslaw (BikeBoard), who surpassed Kalogeropoulos-Ppanikolaou (Pedal Force One), having a difference of less than a minute and riding almost together.
Right behind them are Tzafos-Zylis (ProbikeShop) and Voudouris-Zoumboulis (Bullets), who are practically biking side by side, having a less than a second difference between them and giving their own battle.
Finally Papasavvas-Chrysapelli (Dynamic) moved up in sixth place, having an one minute difference from the ProbikeShop and Bullets .
A great race is taking place for the second consecutive day and we are in alert for more developments.
Stay tuned!!!
For more developments stand by on our website
For live results click here.