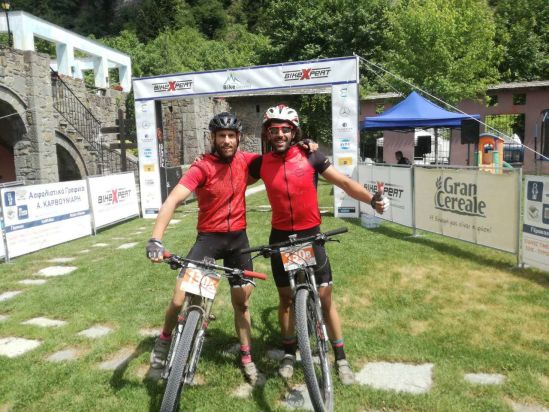 The weather did not make it hard for the participants,despite the predictions for bad weather.
The first stage of the race evolved into very good conditions, it was interesting and intense, and it is successfully proceeding towards its end
Bellow the first ten teams for each race:
8-DAYS
Pedal Force One (Kalogeropoulos Grigoris, Papanikolaou Konstantinos)

Bike Board (Mossoczy Zbigniew, Maciejowski Przemyslaw)

Best Men (Tsoulouhas Giorgos, Sotiriou Iordanis)

Pingel MTB Race & Fun, DK (Jørgensen Lars, Larsen Bjarne)

Animal Rights (Christou Christos, Cole Simon)

Ouzo? Azo! (Daan De Backer, Andy Standaert

Ekopak Warriors 1 (De Bock Wim, Loose Pieter)

Vita4you.gr (Samouladas Antonis, Fragoulis Giorgos)

S Bikes Alex & Stef (Stefaan Neerinckx, Alex Dams)

Ktima Chroni - Organic Honey Products (Grigoriadis Ioannis, Katsonis Vasilis)
NORTH 3-DAYS
The Night Riders (Evageliou Konstantinos, Kouprizas Vasilis)

Dynamic (Chrysafelis Apostolos, Papasavvas Michael)

Protect Aoos Animal Rights (Petrides Theodoros, Drougias Chronis)

ProbikeShop (Zylis Petros, Tzafos Spyridon)

O.P.O.P. 2 (Glavas Andreas, Chantziaras Polydeykis)

Bullets (Voudouris Euripides, Zoumboulis Vasilis)

Kouladia (Drossos Alexandros, Valavanis Dimosthenis)

N.P.O. Chalkidas Team 1 (Theodorou Nikos, Zachos Giorgos)

Chondros-Lignos (Lambrou Nikos, Mavridis Alexandros)

The Blues Broders (Kotsou Nikos, Xenos Thomas)
For further developments check our website.
For live results click here.